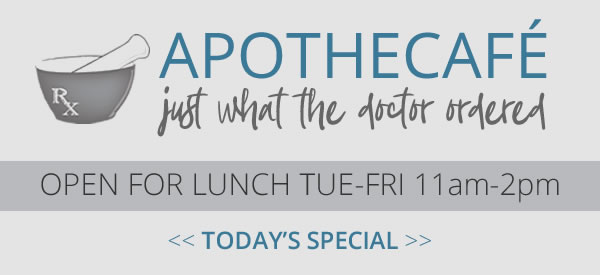 ---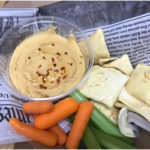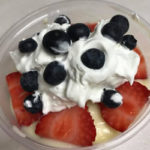 Weekly Specials
Nov 29th- Dec 2nd
SANDWICH OF THE WEEK: The sandwich of the week is a Hawaiian Grilled Cheese.  Colby jack, provolone, and cream cheese, with pineapple, ham, onion and a dash of oregano on toasted Italian bread.  Sandwich with chips and pickles for $7.25 or add a side and large drink and make it a meal for $9.75.
***Brown bag special: Sandwich only (no chips or pickles $1.00 off).***
TUESDAY | Cheesy Hashbrowns & Lemon Bars
WEDNESDAY | Beef and Vegetable Soup
THURSDAY | Confetti Pasta Salad & Fluffy Cheesecake
FRIDAY | Roasted Brussel Sprouts and Rice
…………
---
Here at the Apothecafé we make from scratch everyday a different side and dessert to go along with our sandwiches, wraps and salads. Come by and see us! We'd love to have you.

---
PROUD SUPPORTERS OF OUR SURROUNDING COMMUNITIES & OUR SCOTLAND COUNTY TIGERS!