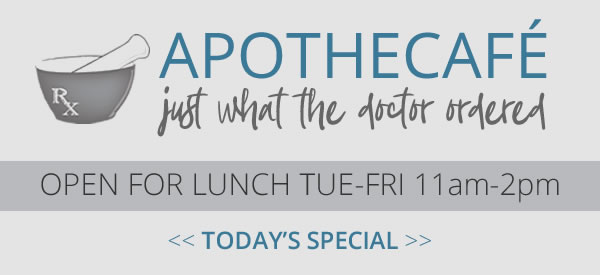 ---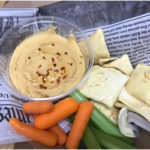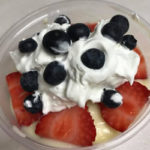 Weekly Specials
JAN 25-28
SANDWICH OF THE WEEK: Monster Mac SandwichWe take our delicious grilled cheese sandwich and Monsterfy it. Vienna bread with Colby jack and provolone cheese with our homemade Dijon cream cheese, topped with creamy mac and cheese, fresh tomato slice and bacon grilled to golden brown. Sandwich with chips and pickles $6.25 or make it a meal with chips, pickles, side of the day and a large drink for $8.75. add ham for $1.00 more.
Sandwich with Chips and Pickles is $7.25 or the meal with chips, pickles, side, and drink is $9.75.
TUESDAY | Mac & Cheese & Double Chocolate Brownies
WEDNESDAY | White Chicken Chili & Apple Crisp
THURSDAY | Roasted Veggies & Gooey Butter Cake
FRIDAY | Broccoli Cheddar Soup & Almond Poke Cake
…………
---
Here at the Apothecafé we make from scratch everyday a different side and dessert to go along with our sandwiches, wraps and salads. Our signature sandwich is Chef James' Reuben which is made from prime brisket and soaked in a secret recipe brine for 7 days. Come by and see us! We'd love to have you.

---
PROUD SUPPORTERS OF OUR SURROUNDING COMMUNITIES & OUR SCOTLAND COUNTY TIGERS!