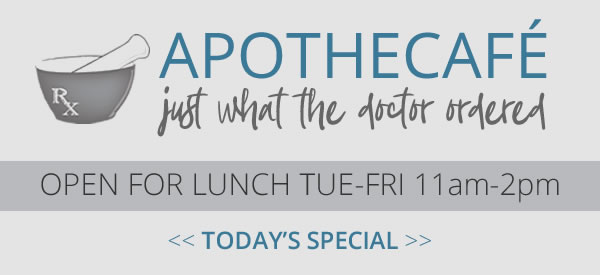 ---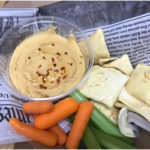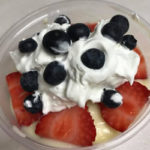 Weekly Specials
NOV 16-19/h6>
SANDWICH OF THE WEEK: Thanksgiving Stuffed Turkey Sandwich: Turkey breast covered with homemade seasoned stuffing and cranberry sauce, French's fried onions with a light smear of Dijon mustard on toasted wheat berry bread and a side of turkey gravy to dip. Sandwich with pickles and chips $7.25 or meal (side, pickles, chips and drink) $9.75.
Sandwich with Chips and Pickles is $7.25 or the meal with chips, pickles, side, and drink is $9.75.
TUESDAY | Brussel Sprouts with Rice & Samoa Sheet cake
WEDNESDAY | Potatoes Au Gratin & Homemade Apple Crisp
THURSDAY | Chili & Chocolate Lasagna
FRIDAY | Green Bean Casserole / Pecan Streusel Pumpkin Bars
…………
---
Here at the Apothecafé we make from scratch everyday a different side and dessert to go along with our sandwiches, wraps and salads. Our signature sandwich is Chef James' Reuben which is made from prime brisket and soaked in a secret recipe brine for 7 days. Come by and see us! We'd love to have you.

---
PROUD SUPPORTERS OF OUR SURROUNDING COMMUNITIES & OUR SCOTLAND COUNTY TIGERS!